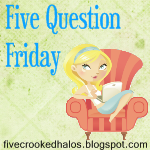 Its already half past midnight, meaning it's Saturday here in Malaysia already... Anyway, this is my 3rd 'Five Question Friday' (or 5QF)! Here it goes:
1. Who would you want to play you in a movie of your life?
Ermmm.. If we're talking about talented actress, I'd love Nicole Kidman to play me in a movie of my life hahaha... well, if we're talking about getting an actress who kinda look similar to me, well, I guess I'd have to go for Wynona Ryder...
2. Did you ever go to summer camp?
What summer camp?! Malaysia is summer all year round!
3. What sends you running and screaming in the other direction?
Insects! Definitely insects... cockroaches, mosquitoes, bees, wasps, grasshoppers, oh gosh... typing it out is also making me shiver...
4. What is something you do that drives your spouse nuts?
Let me see... (as in give me a minute here while I asked my hubby :P) Oh well, he just replied me 'This?' (as in my annoying him by asking this question :P) Let me see, I think it had to be my weird eating habits... which is not eating veggie... :P
5. What is currently your favorite song?
I'm switching between Gary Barlow's "Forever Love" and Hayley Westenra's "Both Sides Now". Love them both at the moment! You should hear it! :D