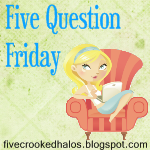 Yessss!! Half hour more till midnight, meaning I can still make it to post this on a Friday! Anyway, this is my 4th 'Five Question Friday' (or 5QF) - I'm at #38 this week, woohooo! Here it goes:
1. What was the first car you owned?
I don't own a car... I do have a driving license though... just in case, I really need to drive to a place or fetch someone, then at least I can drive a car... :P
2. What song are you embarrassed to know the lyrics to?
Ermmm... NKOTB's '

Step by Step

'. Once sang it right in front of the class... I was about 10 years old then. And I actually did the 5 different voices (as in sung by the different members of the band) So so so embarrassing! I was young... and innocent then... :(
3. Have you ever had stitches?
Nope... but I did broke my right arm, about 3 times within 3 months... :P
Oh heck, I've been saying I should blog about this but have yet to get around to doing this... Ok, ok...gentle reminder to blog about this soonest possible... ;p
Oh wait a minute... now that I think about it, yes, I did have stitches! I had an episiotomy when I gave birth to Ben in March 09'. Couldn't remember how many stitches though...
4. What was your first job?
Part-time sales promoter at a shopping mall. I was 16 years old then, we're all having school holidays for about 1 month+, so what better way to spend the holiday then to earn some cash with my own hands? :) I had lots of fun with that job cos' few of my close schoolmates were also working at the same department with me. Kinda like going to school again with your close schoolmates, just no teacher.. and we're getting money at the end of it... :D
5. Who is your favorite Sesame Street character?
Elmo!