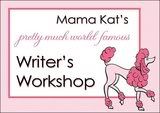 Oh gosh! I'm a so late in participating this meme! I've always wanted to participate in it but never get around to doing it, and erm... even when I get around to doing it, I'm like a week late! :P


So anyway, this week, I chose this prompt: "

Write about something that frightens you that other people might find ridiculous.

"


I have a couple of quirky and weird eating habits which my friends and family members might find amusing and ridiculous, but yeah, it scares me sh*tless and some still brings me chills when I see em'.


I've posted about my weird eating habits sometime back so, if you have the free time, please read more here. And don't laugh at me. In summary, these are my weird eating habits:

#1 - I am terrified of prawn's head

#2 - And yes, no prawn legs too...

#3 - I hate blood in meat

#4 - No animals' internal organs please...

#5 - I don't do abnormal food

#6 - The eggs I eat MUST be thoroughly cooked!