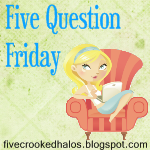 Oh wow! Stumbled upon this blog meme called 'Five Question Friday' (or 5QF) by Mama M. at http://fivecrookedhalos.blogspot.com/
. Looks fun so I decided to participate even though its already Saturday here in Malaysia... :P
So here it goes:
1. Did you pass your driver's test on the first try?
Err... nope... here in Malaysia, we have a few tests to go through during the driver's test. If I can recall correctly, they are road test, up the hill test and the parking test.
The road test is where you actually drive out the roads and just follow the instructions given by the tester on where you should drive to (points given based on how you drive and react to surrounding and whether you follow the traffic and driving rules) If you disobey any rules, you fail.
Up the hill test is where you drive the car up to this mini hill, pull up your hand brake, set your gear to neutral, then upon signal, to switch back to drive gear, release the hand brake and drive on. If you reverse your car instead of driving on, you fail.
The parking test is where you will drive your car to a designated parking spot where all the 4 corners are marked with the plastic cones. If you knocked any of it down while parking, you fail.
So anyway, I failed the hill test :( I forgot to put my gear into drive mode before releasing the hand brake... as my car gently reversed back, I look in horror at the face of the tester as he sees me reversing back... arghhhhhh... And the worst thing is to retake this test, I had to retake all the other tests which I passed with flying colors!
2. What is your most embarrassing moment?
I would have to say breaking my right arm when I was 12. Didn't do any warm-up exercise and went straight to play volleyball in school. Broke my right arm while I was bending down trying to retrieve the ball.
3. What TV show would you like to be on- Oprah, Biggest Loser, or What Not to Wear?
I love Oprah! She has just a huge personality and power! I'd like to be in her position cos everything she does influence something!
4. Would you ever get plastic surgery and what kind?
Nope.. natural beauty is the best! I don't even wear make up!
5. What are your favorite jeans to wear?
I used to have this jeans I love since high school... the fit is just nice and the color is awesome... I don't wear it anymore after I torn it... and I couldn't find the similar type anymore now... :(