I had previously posted on Benjamin's 1st birthday party and had mentioned one of the birthday cakes (yes, Ben had TWO birthday cakes! :P) which is a whopping 3kg (or 6.6lbs) jelly cake which I absolutely adored (and happily chowed down the remaining half after the party - of course not in the same serving... I finished the remaining jelly cake within 12 hours.. :P)
So here is the picture of the jelly birthday cake again, just to refresh your memory. Anyway, after that post, I had received a couple of comments from my bloggy friends saying they have never seen/heard of jelly cake before! And I was like

WHAT???!!!
So, yes, I'm off on a quest in the Internet world to search and find out more info on this yummylicious jelly cakes and decided to share my findings with you guys... it's really-really yummylicious and to think that people can be so creative to come up with this! Amazing!!
And again, I hope no one will misunderstand that they are my creations...

it's definitely NOT

... the most I can come up with is jelly pudding (pre-mix, just add water and boil and cool it down.. easy peasy..)
The jelly birthday cake we got is from this shop called Q Jelly Bakery Shop. Don't ask me why the name is such.. I do not receive any freebies from them (though I'd love to! *hint *hint *hint) nor am I trying to promote their sites (wait a minute.. I am... but ahhh.. nevermind...)
According to their website:
Q JELLY BAKERY SHOP, previously known as Homemade Jelly Cake. The 1st booth located in Sunway Pyramid in year 2000.
Our aim/purpose is to introduce a new, surprising, healthy cake for any celebration-use. Compared to other Bakery industries, Our company's main product is jelly cake which is made by seaweed which is healthier than others. The low cholesterol jelly cake contains nearly 87% water but rich in vitamins and nutrients.
Now, you can order our jelly cake online or feel free to drop by our shop in Bandar Puchong Jaya, Bandar Puteri Puchong, 1utama Shopping Center, Ikano Power Center or Pavilion Kuala Lumpur.


So, maybe you have not heard/seen this cos it's in Malaysia? I'm not sure whether other countries have these but it used to be one of the 'in' thing to have this jelly cake for any sort of celebrations.


Below are some of the pictures I got from their websites (now, let's start drooling over em'), please note that some of the pictures from the website does not do them justice, but remember, it's like I said over and over again, they are really yummylicious!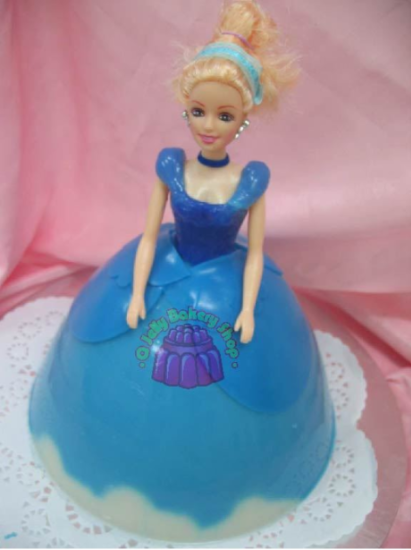 Now what I understand is the doll is actually real plastic doll (don't think it's Barbie... they are kinda pricey here in Malaysia so my guess is they are the pirated version of Barbie dolls) So, I think they just prop the doll upright and kinda blend in the jelly together with the doll, kinda like making it look like its her dress. Though I'm not sure what you would do with the doll after you eat all the jelly.. Hmmmm....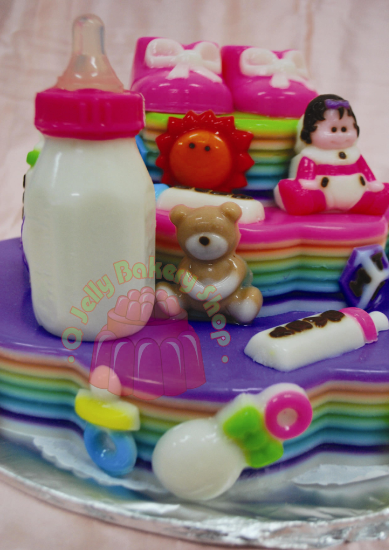 Just look at those layers of jelly!! Drool, drool! This cake is for baby's celebration of course! Look at the details like the baby milk bottle (don't think the pacifier is jelly... looks rubbery to me), the baby booties, little brown bear, the baby girl, pacifier and the toys... This just scream yummylicious cute! Btw, this cake is double the weight of the one we got for Ben and costs almost 3.5 times more!
You know what I like about jelly cakes? They don't fill you up so fast compared to the normal cakes that we would have. Eating jelly cakes is like eating desserts! I could just go on and on, and sometimes, to enjoy the process, I'd slowly peel off each layers and eat it slowly... mmmmmm....

And the good thing about jelly cake is there's only sweet taste of jelly, unlike conventional birthday cakes which you would have to crack your head to choose which flavour (chocolate cakes, cheese cakes, coffee, tiramisu, I could go on and on) cos you need to choose a more popular flavor that will go along with majority's tastebud...
As of now, I'm slowly hinting to my dear hubby to get me one of this jelly cake for my coming birthday in less than 2 weeks time (my birthday is 12 days after Ben's). Maybe I should also hint to him what sort of design I wanted huh? ;P